Spot Information
| | | |
| --- | --- | --- |
| | Name | Shiroyama Park [Matsuyama Castle] (城山公園 [松山城]) |
| | Best Viewing | Late March – Early April |
| | Address | Marunouchi, Matsuyama City, Ehime, Japan |
Kagamino Park / Kochi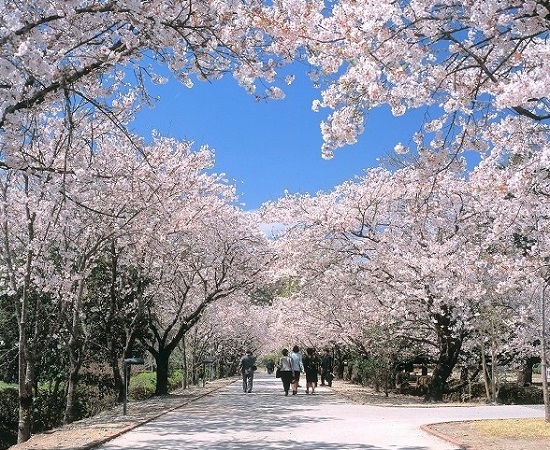 photo by Kochi Visitors & Convention Association
A variety of 600 cherry trees such as Someiyoshino and Yae-zakura are planted in the park. The tunnel of cherry blossoms will stretch over full length of 200 meters in full bloom of spring. Cherry blossom viewers can enjoy illuminated cherry trees in the evening.
Spot Information
| | | |
| --- | --- | --- |
| | Name | Kagamino Park(鏡野公園) |
| | Best Viewing | Late March – Mid-April |
| | Address | Miyanokuchi, Tosa-yamada-cho, Kami City, Kochi, Japan |
Makino Park / Kochi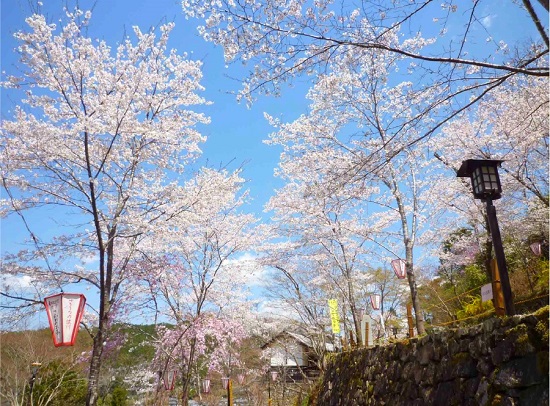 photo by Sakawa town
Makino Park(牧野公園) is named in honor of botanist Dr.Makino who donated a cherry tree in 1902. The park is situated in the hillside of Mt.Kojo, and the mountain will be coverd with 600 cherry trees at their best. Among various kinds of cherry trees, Sendaiya-zakura, named by Dr.Makino, is especially originated in this city, which is deeper pink and bloom a few days later than Someiyoshino. Cherry blossoms are illuminated with paper lanterns in flowering season.
Spot Information
| | | |
| --- | --- | --- |
| | Name | Makino Park(牧野公園) |
| | Best Viewing | Late March – Early April |
| | Address | 2458 kou, Sakawa-cho, Takaoka-gun, Kochi, Japan |