Spot Information
| | | |
| --- | --- | --- |
| | Name | Shichikawa dam Lake(七川ダム) |
| | Best Viewing | Late March – Early April |
| | Address | Sada, Kozagawa-cho, Wakayama, Japan |
19. Mitake / Mie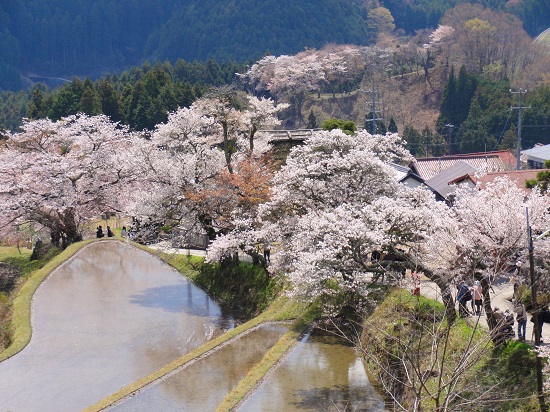 photo by wiki/アラツク
There are about 500 Yama-zakura cherry trees lined up over 1.5km on both sides of a road from Ise-honkaido road to the approach to the Shinpukuin temple. During the flowering season, hundreds of Yama-zakura cherry trees along the road will create the beautiful cherry pink tunnel, expanding a lovely landscape against the background of adjacent terraced rice fields.
Spot Information
| | | |
| --- | --- | --- |
| | Name | Mitake(三多気) |
| | Best Viewing | Mid-April |
| | Address | Mitake, Misugi-cho, Tsu City, Mie, Japan |
20. Miyagawa Riverbank / Mie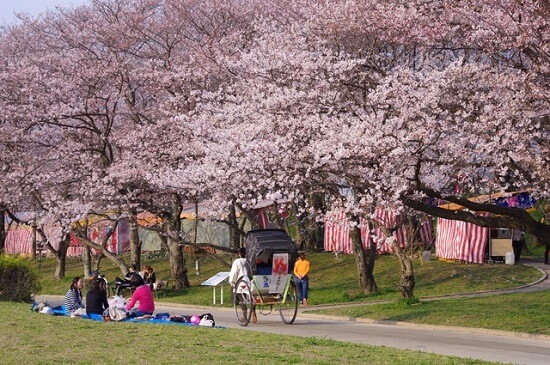 Miyagawa river flows in the northwest of Ise Jingu (Geku) located in Ise city of Mie, and there is a row of cherry trees at the bank of Miyagawa river, which has been highly popular sight of cherry blossom since old times known familiarly as "Sakura-no-watashi"(literally ferry-boat of cherry blossoms to go to Ise Jingu) . A thousand of cherry trees such as Someiyoshino and Yama-zakura are lined up over 1km on the dike of the river bed and this area is crowded with many cherry blossom viewers during the flowering season.
Spot Information
| | | |
| --- | --- | --- |
| | Name | Miyagawa Riverbank(宮川堤) |
| | Best Viewing | Early April |
| | Address | Miyagawa – Nakajima, Ise City, Mie, Japan |